Free Projects: Gold Lame' Candle Holder
These candle holders are beautiful and the best part is that they can be made for next to nothing using what you already have! Vary the fabric and ribbon for many great effects! These also make great holiday or party centerpieces.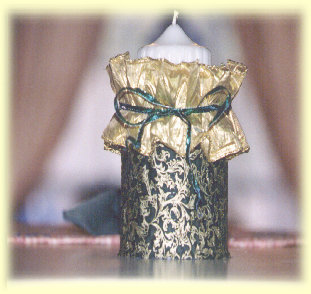 MATERIALS:

Either an empty, metal, powdered baby formula can or coffee can (cleaned and with the label removed)
1 yd.2 inch wide wire rim ribbon
1 yd. fabric
1 yd. thin wire or regular ribbon
craft glue
scissors
STEPS:

Cut fabric to fit around the outside of the can.
Place glue around the entire outside of the can and glue fabric to cover the outside.
Use your 2 inch wire ribbon and fold it "accordion style" to create the rippled effect. Stretch it back out just until you have the desired effect and glue to the top, outside portion of the can.
After gluing the 2 inch ribbon, take the thin ribbon and tie around the center of the 2 inch ribbon. This will also help keep it contacted while the glue is drying.
After all of the glue has dried, place your candle and enjoy! We used a 6 inch pillar style candle, but you could also use the granule style wax and use your own wick to make a custom-fit candle. These make great accent pieces and gifts!
Variations: You can achieve different looks to match your decor by using upholstery fringe instead of ribbon or choose fabrics with a victorian feel to create a theme. These are also great in a grouping inside a fireplace using various size cans!