This project makes those plastic hampers absolutely beautiful and best of all, you can match your decor with the fabric you choose!
Fabric-Covered Clothes Hamper
A DECORATIVE TWIN TOP SHEET AND A PLASTIC LAUNDRY HAMPER CUSTOMIZES YOUR DECOR INEXPENSIVELY!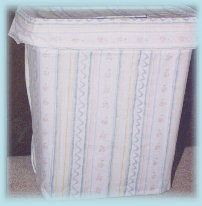 MATERIALS:
1 Twin flat bed sheet
1 large tube/bottle weld glue (we used weld-bond and tacky glue brands)
scissors
fabric stiffener (optional)
decorative beads, charms or other adornments (optional)
1 sheet coarse sandpaper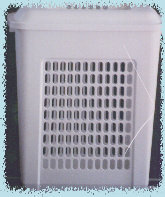 STEPS:
Use the sandpaper to "rough up" the outside surface so that the glue will have more to adhere to.
Take the top portion off and begin with it. Coat the entire surface area with the glue and set to the side.
Cut the fabric to cover the top portion and put it in place over the glue but leave rim edge free. You should have enough glue applied to feel through the fabric when working it in place.
Now, cut the cuff portion of the sheet for the outside rim of the top and glue in place. You will have to work with the top and fabric to make sure the top will open and close correctly. Simply put the top in place after gluing the fabric and trim where necessary until it fits properly. Glue any stray edges under.
Remove the top again and set to the side. Working in sections, completely cover the outside surface of the rest of the hamper with glue and cover with the remainder of the sheet starting at the top outside of the hamper with the finished edge of the remaining sheet. If your hamper has a mesh center like ours, make sure you get the glue around the holes for the fabric to stick to. Fold any frayed edges under to conceal.
After covering with the remainder of the sheet, trim the excess and fold under at the bottom and glue in place. Fold the seam in the back under and make sure all portions have enough glue.
You can add extra adornments if you like or just have the beautiful look of the sheet. You could also use fabric stiffener on the top to keep the outside rim stiff when lifting. Enjoy!