Great Suncatcher
THESE SUNCATCHERS ARE SO EASY AND YOU CAN USE SCRAP PIECES OF STAINED GLASS BECAUSE THE EDGES WILL BE COVERED BY THE CLAY! THERE ARE MANY POSSIBILITIES USING DIFFERENT COLORS, SHAPES, BEADS AND STYLES! YOU CAN ALSO MAKE A PROFIT IF YOU SELL THEM AT CRAFT FAIRS BECAUSE THE ONLY COST IS THE CLAY OR ADORNMENTS IF YOU CAN FIND A STAINDED GLASS STUDIO OR ARTIST WHO WILL GIVE YOU THEIR SCRAPS!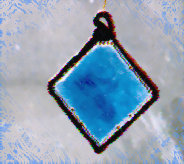 MATERIALS:

SMALL (APPROX 2 INCH BY 2 INCH) PIECE OF STAINED TRANSPARENT GLASS
1 PACKAGE OF POLYMER CLAY (WE USED SCULPEY PEARLIZED CLAY)
JEWELRY BEADS, SMALL GLASS OR METAL (PLASTIC WILL MELT)
CLEAR FINGERNAIL POLISH
BAKING PAN
STEPS:

Break off a large piece of your clay and "work" it so that is easy to roll it into a snake-like tube slightly longer than your glass's perimeter. Be careful when working with the raw edges of the glass!
Form the tube around the entire outside edge pressing and shaping tightly to form a border/frame that will support your piece. At the top portion, form a decorative loop with the two loose ends by crisscrossing and looping and then bending back on itself and pressing in to secure the clay.
Now, you can add your beads around the edges, or wherever you would like more adornment. If you would like to use plastic beads, make an impression with the bead and then glue back in place after the baking portion is done.
Once your raw form is complete, bake on a cookie sheet or pan at the recommended time and temp. for your brand of clay. (don't overbake!!)
When the piece has cooled, put one coating of clear fingernail polish over entire clay portion and let dry. Hang on string, embroidery floss or fishing line in a sunny window and enjoy!!