Leather-look lampshade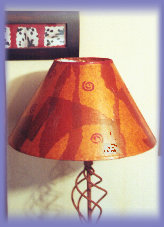 This is a great project because this distinctive look is created with an inexpensive shade and tissue wrapping paper! The look is wonderful.
Materials:
1 fabric or paper lamp shade
1 jar decoupage "glossy finish" glue
1 package metallic copper-color tissue paper (in gift wrapping dept.) --This tissue paper usually has a glistening surface on one side and matte on the other.
1 1-inch artist paint brush to apply glue
1 2oz craft acrylic paint in contrasting color (we used "tapestry wine" #20592 by Plaid)
1 decorative swirl 1-inch paint stamp (at craft stores)
Steps:
Wipe lamp shade with a damp cloth to remove any dust or debris and let dry.
Tear tissue paper in uneven large strips and pieces. It's best if the general length will reach from the top to bottom of the shade overlapping by 1/2 inch.
Working in sections, use a glue/paper/glue technique, applying the paper with the irridescent side facing out.
Smooth each piece as you go so that there are no wrinkles and only overlap each strip's border by about 1/2 inch so that there will be a contrast in color depth and definition when finished.
After the entire shade is covered, add glue to the 1/2 inch underside of the top and bottom of the shade and tuck edge of tissue under.
You can rip and add a few more tissue pieces for more interesting texture.
After dry, use contrasting acrylic paint and small stamp to add a few extra designs to your shade and let dry.
Cover the entire finished tissue and painted shade with another coat of glue and let dry. (you can use a damp washcloth to tap on the surface of wet glue to give more texture and less reflection)
Variations: Glue flat-backed silver buttons, cabochons or upholstery pin heads to appear as seams. You could also add funky fringe around the bottom.