---
---
Denim Ottoman Project
**This project is great for recycling things you may have stacked in the garage. we used the base of an old papasan chair, but you could use an old chest, small table (cut the legs so that the height is 12-14 inches) or build your own base using 4, 12 inch by 12 inch squares of plywood in a hollow square fashion.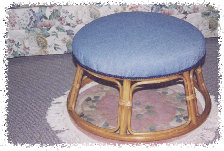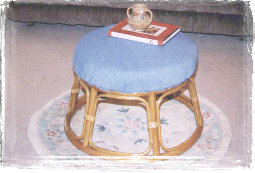 MATERIALS LIST:
2 1/2 Yards medium-wt. fabric (we used light denim)
3 1/2 Yards upholstery cord or fringe in coordinating color
round or square base (we used the base of an old papasan chair), you can use any of the above mentioned items for a base, just make sure they are wooden and approx. 12-14 inches in height
jigsaw or have top wood portion cut at lumber center to fit base in desired shape
staples and manual or electric staple gun
fabric or craft glue
4, 1 inch wood screws and drill or electric screwdriver
2 inch or thicker upholstery foam in correct size for your top and base
STEPS:
Cut the top piece of wood in either a circle or square shape to cover the base, overlapping by about 2 to 3 1/2 inches on all sides. Either cut out a circle "template" with poster board, place on top of wood and cut with a jigsaw or have lumber center cut to desired dimensions for your base.
Attach the top wood piece to the base using the wood screws and a drill or power screwdriver. It's easier todrill a "pilot" hole first by pre-drilling where the screwswill be placed, but make sure the diameter of the hole is smaller than the screw.
Fit the upholstery foam on the top portion and "shave" the edges of the foam with a large bread knife or electric knife if you want a more rounded edge.
Once the foam is in place, attach your fabric by starting in the middle of one side and then pulling tight onthe opposite side and then continue attaching with the staple gun on the under side of the top wood edge.
Once the ottoman is covered with the fabric, you can glue the cording or fringe around the edges for a finished look or add tassels on each corner if doing a square ottoman.
PUT YOUR FEET UP AND ENJOY!