---
---
DECORATING FOR LESS: BEADED NAPKIN RINGS
These beaded rings are a beautiful addition to any table. We used glass beads, but you can experiment with wood, ceramic or a variety of resin beads. The "jewelry findings" section of hobby stores have a wide selection. We made single and double rings so we will show steps for both.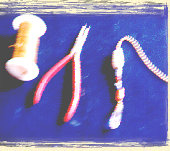 MATERIALS LIST:
24 GAUGE OR LOWER GOLDTONE OR SILVERTONE BEADING WIRE (MAKE SURE IT IS THIN ENOUGH FOR BEADS TO FIT AND EASY TO WORK WITH.)
JEWELRY OR CRAFT BEADS IN DESIRED SHAPES, COLORS AND TEXTURES
SMALL FLAT-NOSE PLIERS WITH A SNIP
SMALL "ROSARY" OR ROUND-NOSE PLIERS (ALL OF THESE MATERIALS ARE AVAILABLE IN MOST HOBBY/CRAFT STORES AND SUPPLY CATALOGS).
STEPS:
CUT A 6 1/2" PIECE OF BEADING WIRE WITH THE NEEDLE-NOSE PLIER/SNIPS.
USING THE ROUND NOSE PLIERS, GRASP 1/2" FROM ONE END OF THE WIRE WITH PALM FACING IN TOWARD YOU AND ROTATE YOUR HAND OUTWARD TO CREATE A LOOP WITH THE CENTER THICKNESS OF THE PLIERS TIP. USE THE EXCESS WIRE (1/2") TO TWIST AROUND THE REMAINING WIRE TO CREATE A SECURED LOOP. (HANGMAN FASHION)
NEXT, ADD THE BEADS EITHER IN A RANDOM PATTERN OR CREATE A REPEATING PATTERN. (SUCH AS: 3 GOLD BEADS, 2 RED, ETC AND REPEAT) ABOUT 4 INCHES OF BEADS ARE ADEQUATE. IF YOU ARE DOING THE DOUBLE RING, USE 8 INCHES OF BEADS AND DOUBLE THE WIRE LENGTH.
WHEN FINISHED STRINGING THE BEADS, TAKE THE OPEN END OF WIRE AND THREAD IT THROUGH THE LOOP ON THE OPPOSITE END. IF YOU ARE DOING THE DOUBLE RING, DOUBLE THE STRAND OF BEADS AROUND TO CREATE 2 INTERLOCKING CIRCLES AND THEN THREAD THE OPEN END OF WIRE THROUGH THE LOOP.
ON OUR RINGS, WE LOOPED THE ENDS TOGETHER TIGHTLY AND THREADED THE EXTRA WIRE AROUND THE CLOSING TO CREATE A SYMMETRICAL "HANGMAN'S ROPE" LOOK. IF USING THIS METHOD, BE SURE TO PINCH THE POINTED ENDS OF WIRE INTO THE CLOSURE WITH YOUR PLIERS. YOU CAN ALSO USE A METAL "BEAD CRIMP" AVAILABLE IN THE BEADING SECTION. YOU WOULD SIMPLY "PINCH" THE CRIMP OVER THE CLOSURE AREA WITH THE FLAT-NOSE PLIERS.
**WITH A LITTLE IMAGINATION AND EXPERIMENTING, YOU CAN CREATE A VARIETY OF STYLES AND VARIATIONS USING DIFFERENT BEADS, CHARMS, SHAPES, ETC. EMAIL US YOUR COMPLETED VARIATIONS SO THAT WE CAN SHARE YOUR CREATIVITY!
BeadRoom.com has a great selection of Czech and antique glass beads at affordable prices for your craft needs!
DISCLAIMER
ALL OF OUR PROJECTS ARE EVIDENT OF OUR PERSONAL APPLICATION OF THE STEPS INVOLVED, WE DO NOT GUARANTEE THE OUTCOME OF ANY SUBSEQUENT APPLICATIONS AS WE CANNOT CONTROL THE APPLICATION OF THE STEPS BY THIRD PARTIES. **SAFETY AND CAUTION MUST ALWAYS BE USED WHEN ATTEMPTING ANY CRAFT OR PROJECT.
---
---