HERE IS OUR FAVORITE CENTERPIECE DECKED OUT FOR THE MILLENNIUM THAT WE HOPE YOU'LL LOVE! (HAPPY NEW YEAR!!)
MILLENNIUM TABLE CENTERPIECE
THIS CENTERPIECE IS EASY TO MAKE IN A FLASH AND LOOKS GREAT! YOU CAN EVEN USE METALLIC SILVER SPRAY PAINT ON SILK FLOWERS THAT YOU ALREADY HAVE!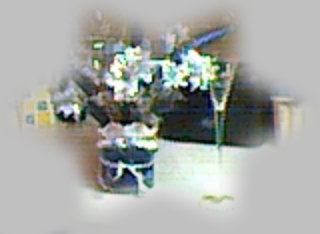 MATERIALS:

EMPTY METAL COFFEE OR FORMULA CAN, TOPHAT SPRAY PAINTED SILVER, OR OTHER PAINTED SILVER CONTAINER
METALLIC 2" ROYAL BLUE RIBBON
SILK FLOWERS AND STREAMERS IN SILVER (YOU CAN USE SILVER SPRAY PAINT TO CONVERT OLD FLOWERS THAT YOU HAVE TO "MILLENNIUM" STATUS" WE USED EXTRA CHRISTMAS FLOWERS!)
CRAFT GLUE
THIN METALLIC SILVER RIBBON
(OPTIONAL)SEQUINED RIBBON
FLORAL PICKS
SMALL PIECE OF FLORAL FOAM
STEPS:

FIRST, IF USING AN EMPTY CAN, SPREAD GLUE ON ENTIRE OUTSIDE AND COVER WITH WIDE METALLIC BLUE RIBBON IN LAYERS. IF USING THE TOPHAT, SPRAY SILVER AND LET DRY, THEN TURN UPSIDE DOWN (WITH OPENING UP) TO WORK.
CUT THE FLORAL FOAM TO SIZE AND SECURE INSIDE OF CONTAINER WITH DOUBLE STICK TAPE OR GLUE.
ARRANGE THE SILVER FLOWERS AND STREAMERS BY STICKING THEM INTO THE FOAM TO SECURE (ATTACH TO FLORAL PICKS IF NECESSARY).
CUT A 6 INCH STRIP OF THE 2" RIBBON AND "TWIRL" AROUND TO MAKE A LONG TUBE AND ATTACH ONE END TO A FLORAL PICK (IF THE PICK IS NOT LONG ENOUGH TO MAKE THE RIBBON TUBE STAND UP PROMINENTLY, USE TWO PICKS TO GIVE EXTRA LENGTH) CONTINUE UNTIL DESIRED EFFECT IS REACHED.
USE THE METALLIC STREAMERS TO COVER THE BASE OF THE FLOWERS AND THE TOP BASE OF THE FOAM BY "BUNCHING IT" GENEROUSLY.
USE EITHER THE BLUE 2" RIBBON OR WHITE RIBBON TO COVER AROUND THE TOP OF THE CONTAINER AND CREATE A BOW OR OTHER DECORATIVE EFFECT IN THE FRONT.
SECURE THE WIDE RIBBON WITH THE THIN METALLIC RIBBON (WRAP IN CENTER AND TIE).
USE THE SEQUINED RIBBON AROUND THE MIDDLE OR BASE IF DESIRED.
HAVE A HAPPY NEW MILLENNIUM!! ENJOY!