Free Home Decor Projects
Tools for Creating Imaginative Kids' Rooms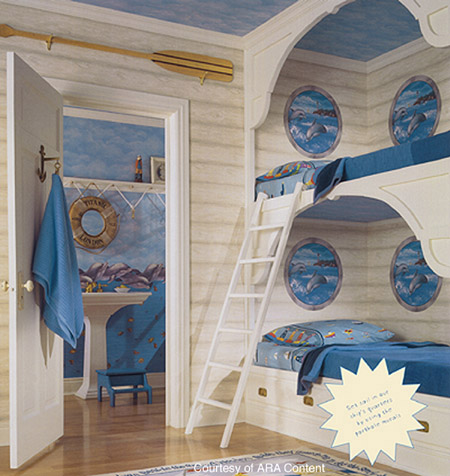 Decorating With Wallpaper By Jaima Brown
(ARA) - Children are getting smarter and more sophisticated earlier, according to child psychologists. This phenomenon, called "age compression" is one reason why children's room décor has moved beyond pink and blue bunnies to the creation of imaginative whole-room environments.
Let kids help choose their theme, suggests Michael Cohen, developmental psychologist and managing director of Applied Research Consulting. "Giving children an opportunity to make decisions early helps them become comfortable with making choices later in life," he says.
The Maxwell Kidz wallpaper and border collection from S.A. Maxwell Co. is designed with this in mind. It is a treasure-trove of mix and match decorative tools for transforming a child's room into a stimulating themed sanctuary -- a private and highly individual place that children and parents can create together.
Realistic looking portholes through which dolphins cavort by a lighthouse can be applied on top of wallpaper that looks like a ship's cabin. A sky of soft clouds can be wallpapered on the ceiling. As an alternative, or in a child's adjoining bathroom, a deep-blue, underwater seascape, complete with schools of colorful fish, can be installed from the floor up to a child's eye level. An undulating border of dolphins at play, pre-trimmed along the top and bottom, separates the sea from the sky.
For cowboys and cowgirls, there are all the makings of a rustler's bunkhouse. A border, designed to be hung vertically, depicts a rough-hewn, log ladder with thatches of straw and an occasional bandana spilling over its rungs. Combine this with a tall hayloft border of straw on which boots, belts and a sheriff's badge are strewn. It can go along the bottom, top, or at any level along the wall, alone or against weatherworn barn siding, with or without painted wooden stars.
Despite age compression, young girls, as well as infants, still love dolls and stuffed animals -- often long into their teens and beyond. For them, there are choices of a rag doll tea party on a sculptured-edge border or another border of innocent plush toys poised on a ledge. A 30- by 40-inch bay window mural in Maxwell Kidz shows these smiling plush animals on a window seat overlooking a country yard in full bloom. A tiny tricycle and rope swing dot the outdoor landscape.
To complete kids' environments, apply leftover border strips to the headboard, toy chest or the front of dresser drawers. All Maxwell wallpapers are strippable and scrubbable.
"Creative play is a core aspect of child development," according to Cohen. A puppet theater is wonderful for helping children express their creativity and stretch their imaginations. It's easy to create one from an old door.
Make four wooden wedges by cutting triangles from a 2-inch by 4-inch board. Attach two of the wedges firmly along the bottom of each side of the door to hold it upright. Wallpaper the lower door panel on either side to match the room decor. Remove the screen or glass from the top panel and cover it with café curtains that open and close.
As a fun finishing touch, help wallpaper a child's dollhouse or playhouse with mix and match patterns from Maxwell Kidz.
To locate a retailer that carries Maxwell Kidz and grown-up collections from S.A. Maxwell Co., call 847-932-3700 or visit www.samaxwell.com.
Courtesy of ARA Content
---
EDITOR'S NOTE: Jaima Brown is director of design for S.A. Maxwell Co., a leading producer of wallpaper, borders and coordinating fabric.
---