Free Home Decor Projects
Upholstery Styles Get Personal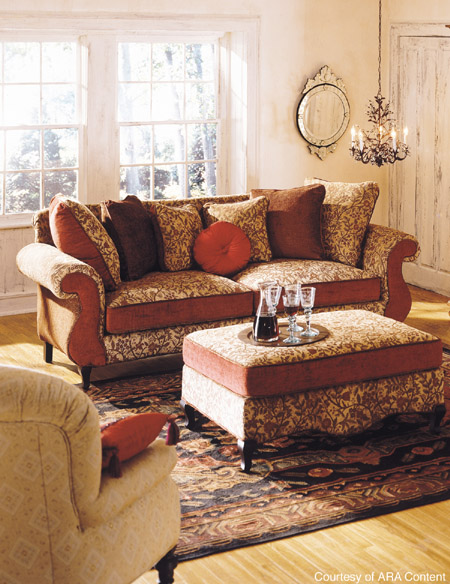 This season's trends inspire individuality
(ARA) - Dare to be different. Imagine a sink-into-it sofa covered in a mixture of plush, floral tapestry and chenille then trimmed with long eyelash fringe; or a period-style accent chair covered in a bold, playful Buffalo plaid. This season designers are gravitating towards wonderful and unexpected mixtures of classic furniture styles dressed up to have fun.

According to T.J. Schmitz, an upholstery designer for Arhaus Furniture, an 18-store retailer specializing in exclusive, quality home furnishings, "Look for a retailer that offers plenty of design options and encourages creativity with fabric combinations, textures and trims."

A custom-looking sofa or chair that expresses your individuality can be created easily by working with coordinating fabrics and interesting trims. A good furniture retailer will offer advice on how to coordinate multiple fabrics and textures on a piece of furniture.

"Go for that signature piece in your home: A great-looking sofa or chair and ottoman. But make sure it fits into your home décor and withstands everyday use," says Schmitz. "Look for great-looking upholstered pieces that are a bit out-of-the-ordinary in their shape, scale or fabric. These core pieces can help build or rebuild the décor in your room."

This season, exciting new mixtures of fabrics, colors and shapes should give furniture shoppers some creative inspiration. "Keep in mind," says Schmitz, "that seeking out unique pieces of furniture for your home doesn't label your décor 'trendy' -- it simply makes your home more personal, comfortable and fun."
Fabric Finds for 2002
Smooth twills are making some exciting statements in bold colors such as red, gold, copper, raisin and rich shades of brown. Black and khaki are popular classics that are being revisited in fabric combinations such as toiles, florals, bold stripes and checks. In upholstery, shades of green are still strong staple colors to pull a room together.

Embroidered chenilles and tapestries also are finding their places in home fashion this season. Ethnic inspired sofas, chairs, and even classically-styled ottomans covered in kilim rugs have an appealing worldly influence and work beautifully in an eclectic room setting.

According to Schmitz, furniture designers are thinking more about the versatility of a sofa or chair by using companion leathers and fabrics on opposite sides of cushions and pillows. This built-in versatility allows a consumer to change the look of a room instantly with a quick flip of a cushion.
Details, Details . Delightful Details
This season, sofas are ready to take center stage with glamorous, vintage-inspired silhouettes that are updated and fresh for today's home décor. The classic look of beautifully-tailored, fitted backs and sculptural arms are emphasized by decorative trims and interesting kick-pleats. Interesting cording, twisted brocade and long, loopy eyelash fringe are all the rage for dressing up a sofa, chair or ottoman. And don't forget about nail heads. Oversized or miniature, these are a handsome detail.

"Think of trim as that special, personal accessory," says Schmitz. "Just like your wardrobe, the unexpected details are the ones that give your furniture a touch of personality and can pull a look together."

Courtesy of ARA Content
SIDEBAR
Ready to Buy Upholstered Furniture? It's Like Buying a Good Suit

Like the best suit in your wardrobe, a sofa is the foundation of your room setting. The piece you choose should allow for versatility and be an expression of personal style. "Purchase a sofa as a staple item to your personal style -- just like a good suit," says Schmitz. "But always consider the construction and durability as well as the fashion statement it makes."

Shop for excellent craftsmanship, high-quality fabrics and materials that will withstand the test of time and use. That way, your sofa investment should last 10 to 15 years.
Here are some helpful shopping tips for upholstered furniture:
Solid Framework A structurally sound frame provides the best comfort and durability. Look for construction that uses solid hardwood, kiln-dried to a moisture content of 8 percent or less. A well-made upholstered piece also incorporates firmly anchored, eight-way, hand-tied springs in its base.
Testing, Testing Test a sofa or chair in the store by wiggling its arm. It shouldn't move or squeak, but should feel solid. Also, press your hand against the decking, or platform, under the seat cushions. The less you feel the spring, the better the construction.
Warranty Frame warranties often indicate furniture quality, according to Schmitz. Usually, the longer the warranty term, the more well-made the product.
Hefty is Good Check cushions for their heft. Fine furniture uses high-density (around the 1.8-density mark) foam cushions wrapped in down or other soft material. This padding should be channel-stitched like a down comforter, to prevent it from shifting and settling to one side of a cushion. Foam and padding bagged together inside a cushion keep these materials intact and create a desirable "crown" along the cushion's sides. Furniture arms should also be padded, keeping the appearance and feel of wood framing completely unexposed.
Attention to Detail Fine tailoring -- another sign of good craftsmanship -- uses tight, straight stitches for strength and neatness. Finished seams, particularly on slipcovers, prevent fabric from fraying when it's washed.
The Look Look for upholstery with fabric focal points that are centered on cushions, pillows and backs. Also, be sure patterns match where seams meet. "Pattern matching requires a significant amount of fabric and marks good quality," says Schmitz.
Lasting Beauty Your fabric choice might well depend on who will be using your furniture, and how. For instance, if your sofa is Fido's favorite snoozing spot, stay clear of nubby fabrics that snag. A tightly woven material, such as tapestry, provides extra durability. Gently used furnishings, on the other hand, might warrant fine linen or silk.