Free Home Decor Projects
A Space of Her Own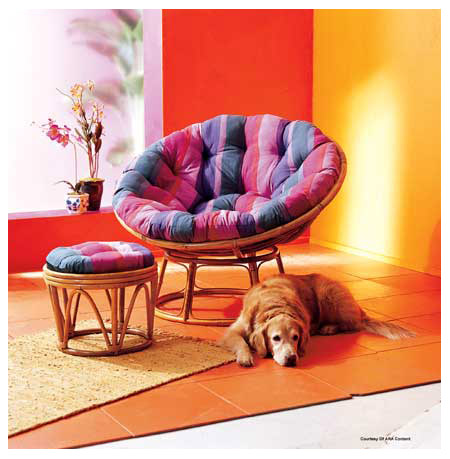 (ARA) - Those teenage years are a time when your young adult is yearning to express herself. She wants her own space that she can personalize and make her own. This could involve multiple body piercings, blue hair, or, if you're lucky, just a room makeover. Here are some tips to help her put her stamp on her living space without costing a fortune.
I Gotta Be Me
Your daughter wants to show her creativity and her individuality. Accessories are a good way to jazz up a room without making a major investment or drastic changes. Decorative pillows, lamps, photo frames and wall hangings can liven up and personalize a drab, institutional dorm room.

"Think outside the box when it comes to decorating a bare, blank wall," says Robert Kling, senior vice president of merchandising for Pier 1 Imports. "Create a collage of your favorite photos and posters using inexpensive clip frames or hang a grouping of masks, plates, or whatever you have as your own special collection."

Reading lamps not only provide all-important light for studying, but come in styles to match your young adult's own personal style -- from trendy striped lamps to beaded lampshades to animal prints. Or go retro with paper lanterns that can be wired for an overhead light fixture.
Company's Calling
Need seating? Director's chairs fold up when not in use and are perfect for a mix-and-match color scheme. For a comfy, inexpensive chair, check out the papasan. The round-cushioned, wicker-bottomed chair is the perfect place for your young adult to curl up with a book or watch television.

"Our papasan chair has long been a favorite among the college crowd," says Kling. "It's nearly a college requirement."

Big, oversized pillows are also a great way to create extra seating at a moment's notice -- perfect for study groups or movie night. And guests will appreciate sturdy acrylic dinnerware -- a definite step up from paper plates.

Beaded curtains are a practical, inexpensive room divider and can be used to create a separate space for people who are sharing a room or a cozy nook for studying or reading. Not to mention the "cool factor" of retro merchandise.
Get It Together
Organization is instrumental to your daughter's success. Baskets make a great catchall for toiletries, hair styling products, compact disks, magazines and more. For dorm dwellers with limited drawer space, stacking baskets are great space savers that create more storage for T-shirts, socks and workout wear. Laundry can stay out of sight in a wicker hamper.

"Trunks are a great storage option," says Kling. "They can double as a table and also provide storage for bed linens and out-of-season clothes. And they can even be used as a last minute hiding place for those surprise parental visits."
It's Back to School
Many retail outlets offer special sales during the back-to-school season. Pier 1 Imports, for example, features a 15 percent discount off regularly priced merchandise to any student who shows a valid school identification card from July 26 through Sept. 29. So your young adult can feel free to express herself without breaking the bank.

If you would like to contact Pier 1 Imports, call 800-245-4595 or visit www.pier1.com.

Courtesy of ARA Content

EDITOR'S NOTE: For more information or to arrange a merchandise loan, please contact Christiane Dwyer at CLDwyer@pier1.com or 817.252.8518.
---