Free Home Decor Projects
Add Sizzle and Style to Summer Parties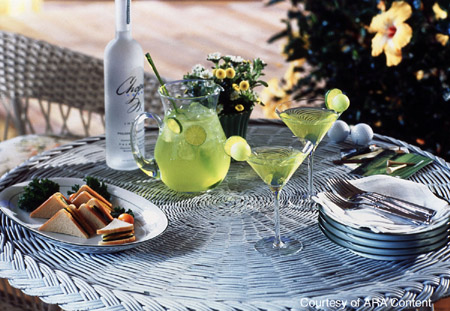 Easy Tips for Summer Entertaining
(ARA) - Summer is here and that means backyard parties, get-togethers and grilling. But just because you're hosting a party doesn't mean you have to break out the paper plates, load up the cooler and struggle with the grill. Brats and beer have their place, but for special occasions you want a little more style. Whether you're throwing a bridal shower, having friends over or enjoying a quiet dinner for two, you can follow some simple tips to make stylish summer entertaining a breeze.
First Rule: Don't Stress
Indoor parties often result in time wasted worrying over seating arrangements and place settings. The great thing about outdoor get-togethers is that you can forget all of that. A patio or deck already offers the perfect natural backdrop. Instead of fussing over decor, pay attention to the things that people remember most -- the ambiance and the drinks.
Summer Showers
You can't get through summer without the news that friends are engaged or expecting a baby. It's shower season! Before you know it, you're throwing a party and running around madly. But take a breather. Make it easy on yourself and add just a few personal touches to your party to show you're thinking of the special couple.
Set the Scene: With larger groups you need to make things simple. Try creating a backyard banquet for your guests by picking up a couple of inexpensive long trestle tables from a hardware store and setting them facing each other under a tree. Throw on white tablecloths (or pastel shades for a baby shower) for a clean, fresh look. String Chinese lanterns overhead, add fresh flowers to the tables and you're done.
Perfect Shower Drink: For special occasions you need distinctive drinks. New trends in summer cocktails blend the best luxury white spirits with summer fruits. One of the more distinctive new recipes is the Chopin Asian Pear Martini. Its pale white color makes it perfect for showers, and its unusual but distinctive blend of pear and ginger flavors are both light and refreshing for any occasion. To mix the Chopin Asian Pear, shake 1 1/2 ounces Chopin, 1 1/2 ounces lemonade and 2 shakes of strained ginger juice. Top with 2 ounces Kristian Regale Pear Sparkler. Garnish with a wedge from a fresh pear.
Après Golf
If you've waited all winter to get back on the golf course, chances are you're now making the most of summer afternoons. But that doesn't mean you need to spend all evening at the club. If you're entertaining friends, a few simple tricks will bring country club style to your own backyard.
Set the Scene: Think about classic outdoor elegance. Outdoor wicker furniture with a simple green table setting sets the mood. For just a hint of the afternoon's game, add a plain vase of long fresh wild grass, or for a dramatic touch, use place settings cut from fresh turf squares. You can pick up both at garden centers for only a few dollars.

Summer Drink to a Tee: The gin and tonic at the club can get pretty tired, but the new Chopin Par-tini is summer to a tee. A perfect blend of mellow melon with a hint of lime and smooth Chopin Polish Luxury Vodka strained through ice, the Par-tini is great to mix in the late afternoon and serve into the early evening hours. To make the Chopin Par-tini, shake 1 1/2 ounces Chopin, 1/2 ounce Midori, strained juice from 3 lime wedges and a splash (1/8 ounce) Martini & Rossi dry vermouth. Garnish with a lime wheel and melon ball.
Evening Romance
Even if it's just the two of you, you can make the evening special. Take advantage of the warm evenings and cool breezes to add a little romance to your evening:
Set the Scene: Keep it classic and simple and avoid too much flash. Throw a clean white linen tablecloth over your lawn furniture, add a vase of fresh cut flowers -- calla lilies for a taste of the tropics -- and candles, or string white holiday lights overhead. Break out your best glassware and china for a more luxurious feel.

New Summer Drinks: Most people crack open the chardonnay in summer, but new trends in summer cocktails give you a chance to use your imagination. The best summer drinks are chilled, refreshing and exotic. For a romantic, sensual drink, try mixing the Chopin Wild Orchid Martini, blending chilled, crisp Chopin Polish Luxury vodka with the summer flavors of pineapple and raspberry. To make the Chopin Wild Orchid Martini, shake 1 1/2 ounces Chopin, 1 ounce pineapple juice and 1/2 ounce Chambord. Top with 1 ounce Moët & Chandon Brut Champagne. Garnish with a fresh orchid on the side of the glass. This drink is guaranteed to get attention.
Summer should be about kicking back and toasting the company of friends. By following these quick tips you can save yourself time, money and stress, and make any occasion this summer memorable and relaxing.
Courtesy of ARA Content
EDITOR'S NOTE: For more information, contact Steve Gill, (612) 359-4371.
---