Free Home Decor Projects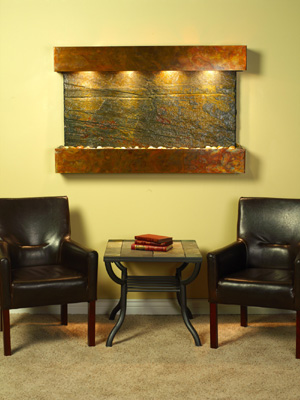 photo courtesy of Adagio Collections
Bring a Unique Sense of Elegance and Class to Your Home Through an Indoor Waterfall
It was not long ago when the only place one would see an indoor waterfall was in a public building, high end hotel or big business office complex. Many hotels and spas have been using interior waterfalls to create a calm, peaceful environment that welcomes strangers in. These water features are now available to the average person to incorporate into their home.
Interior waterfalls combine both a stunning visual effect and mesmerize with the gentle sounds of flowing water. Each indoor wall waterfall can create its own mood for each area of the home. Grab the attention of your guests as they enter your home and are greeted by a wall waterfall. Add that relaxing and romantic touch to your master bedroom with the gentle sounds of cascading water through an indoor mini waterfall or floor standing fountain. An interior wall waterfall may also act as the perfect focal point on the living room or dining room wall. Regardless of where they are located in your home, indoor waterfalls create a soothing relaxation environment.
It can be easy to sell you on the idea of incorporating an indoor waterfall into your décor, but what about the cost? If you have read this far, you may be getting excited about the possibilities here, but you may be starting to question where to start in determining how to incorporate one into your present décor. Essentially indoor fountains are divided into 3 very self explanatory categories; table top, wall and floor fountains. The name does give away the style of each category, but let's take a closer look at the different styles.
Indoor wall water fountains are wall mounted units that contain a surface in which the water flows down, typically slate, river stone or fiberglass/resin within a frame. A small reservoir at the base of the unit collects the water and a small pump circulates the water to the top of the feature. These units are typically the more expensive indoor fountain options as they are larger and are on the upper scale of the market. These units can become fantastic elegant focal points that really create a sense of class and elegance to a room. Because these units are mounted on the wall esthetically it does look best if the GFI electrical plug is mounted behind the fountain so the electrical cord is hidden. Installation is easy and does not require a professional. These fountains are very comparable to the price of some nice art and you're really getting a lot more for your dollar. I like to call wall fountains interactive wall décor, because they do truly engage the viewer and utilize more of our senses rather then just sight. They are also very dynamic as they are in a constant state of change not just a static piece of art.

Table top water fountains are typically the most inexpensive fountain option and are simple to set up. There may be minimal assembly required and from there, simply add water. These units tend to have a more subtle effect in a room due to their size, but that can also be very relative. These units are fantastic on an end table within a smaller room and despite their size they still bring the sights and sounds of moving water into your home. Some table top fountains have small misters that also incorporates mist to the feature. Other options that some table top fountains have are small aquatic plants, bamboo, candles, chimes or artificial light. These little units are very popular to incorporate into a bedroom décor as they have a very tranquil effect. They are also popular in the bedroom because of their romantic flare. Regardless of where you may consider placing a table top fountain there is definitely one that will fit your present décor and budget.

A floor standing fountain is typically similar to the table top units, but they are larger as they are designed to stand on the floor. These fountains can be subtly placed in the corner of a room or thy can be arranged to become a focal point. These units are typically much taller then they are wide and they also can feature many of the special effects like the table top units. Floor fountains are great to use in a situation where you would like an indoor fountain as a feature focal point in a room. Because they stand on the floor the cord is easily hidden behind the unit or other furniture.
So, if you have been on the hunt for the perfect addition to your home decor or you may simply want to add something new to your home that the 'Jones' haven't quite thought of yet, a wall mounted, floor standing or table top fountain may be just the thing that sets your home apart from the rest. . . and for less then you may think!
Essentially an easy way to brighten almost any corner of your home or office is with an indoor table top water fountain. Indoor water fountains provide calming sounds and create a feeling of serenity in the interior of any home. There are many easy ways to put an indoor water fountain into your home. The table top units can create for you a superb display of prestige and beauty. The soft sounds of water falling will have you mesmerized. You can add these to any area of your home from the entry way to the living area to the bedroom. Your guests will be taken aback by the beauty they offer. Table top fountains offer you an exciting way to add beauty and serenity to your home or office.
You can find indoor wall waterfalls made with all sorts of materials from such things as copper, bamboo, glass slate or simple smooth river stones. Some models incorporate candles or a mister to create a romantic mystic feel. They can come in the forms of a natural waterfall, abstract art, a statue or simply a unique design. They are very easy to maintain and run very quietly as not to disturb you, but rather enhance an atmosphere of relaxation. Often times, your guests will draw their attention and comments toward it as it cascades water. It can become great conversation piece.
About the Author: Garth Epp has been fascinated by allure and mystery of moving water and how it can used within our living spaces to create a unique, stunning and relaxing atmosphere. Through this fascination www.premium-indoor-fountains.com, an information based website introducing visitors to the wonder of indoor fountains, was born.