Free Home Decor Projects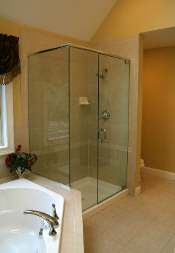 photo courtesy of www.showers-bathrooms.com

Budget Bathroom Decorating Ideas
A full-scale bathroom remodeling project can be expensive and isn't a realistic option if you're on a limited budget. However, a thrifty alternative is to alter just two or three aspects of your bathroom, without going to the expense of putting in a whole new suite. It's surprisingly how a few decorating tricks can help transform a dull and dingy bathroom into a welcoming retreat. By focusing your energies on a few key areas of your bathroom's design, it's possible to achieve great results and stay within your budget.

They say that first impressions count, and this is particularly true with bathrooms. Probably one of the first things you see when you enter any bathroom is the vanity unit - and if you don't notice this immediately, you will do when using the bathroom. It's an unavoidable fact that your vanity furniture is going to be noticed. So, if your sink vanity is looking tired, tatty or dated, it could be time to change it. This needn't be as costly as you might think, as there are some beautiful discount bathroom vanities available these days, especially if you get online and shop around for special offers and end-of-line sales. It's a relatively straightforward job to install contemporary bathroom vanities. If you're experienced at DIY you could attempt the installation yourself, or alternatively you might want to bring in a professional - you shouldn't need to hire a plumber for more than a day to switch over your vanity, so this won't cost you a huge amount.

Another thing that can really let down your bathroom's appearance is general mess. So, if your surfaces are currently buried under a heap of clutter, it's time to rethink your bathroom storage. There are various options available here. You could have a good old sort out and reorganize your cabinets to make room for only those items you want to keep. Or you might decide that you really do need all those bottles and pots of toiletries, in which case it's worth investing in a new cabinet to keep them in. Bathroom storage cabinets come in a range of sizes and styles, so choose one that meets your needs and will fit in with your bathroom's layout and character. Another option to help smarten up your bathroom's image is to repaint your existing cabinets and give them a fresh new look.

Corner shower stalls are common in modern bathrooms and are useful to have, particularly with the busy lifestyles we tend to lead these days. A shower stall can be an attractive feature of your bathroom, but all too often it can tend to have a purely functional purpose at the cost of aesthetics. If your shower stall is looking drab, an economical way of livening it up is to decorate the tiles. Retiling can be expensive, time-consuming and messy, and is not always necessary. If you've got plain tiles, you could add a splash of color and a pretty design by applying tile transfers to a few of them. Or you could use a specialist primer and tile paint to paint them a nicer color. Regrouting between the tiles or applying grout whitener is another handy tip that can immensely improve the look of your whole bathroom.

These are just a few ideas for decorating a bathroom on a budget. For loads more bathroom decorating tips visit www.showers-bathrooms.com.