Free Home Decor Projects
Use Ready Made Slipcovers To Liven Up Your Living Space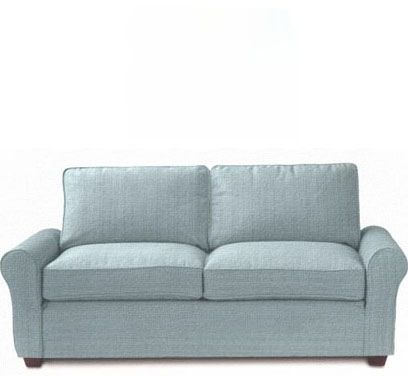 If you want to liven up your living space, but have a limited budget, then decorating with slipcovers could be the answer. Ready made slipcovers are affordable and versatile, enabling you to give your home a great new image without having to spend a small fortune on new furniture.

They come in standard sizes to fit most types of sofas, chairs and loveseats. Ready made slipcovers are also available for oversize chairs, recliners, ottomans and dining room chairs, so no matter which room you want to revamp, you should be able to find a slipcover to use. They are usually machine-washable too, so it's easy to get rid of dirty marks and stains - which is why slipcovers are so popular with parents and pet owners!

As well as being cheap and easy to keep clean, another advantage of slipcovers is that they are really easy to fit. There are various styles of slipcovers, including those that have a separate section for the seat cushions, or an all-in-one design. But essentially, the way to fit a slipcover is the same for any seat. You simply fit the fabric cover over your existing upholstery, adjust it so that it's in place, and then secure it using a zipper, ties or elastic. Any loose bits can simply be tucked neatly into the creases around the edge of the seat, using your fingers or a wooden spoon, to achieve a tight-fitting finish.

Slipcovers are brilliant for coordinating your furniture. For instance, if you have a couple of sofas that you got secondhand, the chances are they won't be identical. It's also possible that their colors or patterns clash horribly, drawing attention to the fact that they don't match. You can solve this problem and give your sofas an elegant new image by covering them with matching
sofa slipcovers. This is a simple and inexpensive method of bringing a touch of style to your living space. You might also want to complete the look by choosing new wing chair slipcovers to match.

Another way in which slipcovers can come in useful is if you decorate your walls, or move to a new house, and you suddenly find that the color of your furniture doesn't go well with your new color scheme. Fitting ready made slipcovers over your seats is a quick and effective way of instantly blending in your furniture with your new décor. Being so easy to fit, slipcovers are ideal for changing the mood of a room whenever you feel like it. For example, during the cold winter months, you might want to use warm, rich colors like burgundy or dark green, to create a cozy atmosphere. Whereas in hot, humid weather, using light colored, pale slipcovers can help create a cool and airy feel.

Fitting a slipcover over a favorite item of furniture is a practical way of prolonging its life, by protecting the original upholstery from wear and tear, or by giving an outdated seat a modern new look by disguising the unattractive fabric underneath. For instance, if you've got a reclining chair that you love to sit in, it is inevitably going to get worn and dirty over time. By covering it with a washable slipcover, you can easily wash out accidental food or drink spills and keep it looking fresh and clean. Cheap recliner slipcovers come in all sorts of colors and fabrics, so you shouldn't have any difficulty finding one to liven up your favorite chair.

As you can see, if you're looking for a budget way to liven up your living space, then using slipcovers on your furniture is an excellent option.

Visit www.getslipcovers.com for more tips on decorating with slipcovers and some great offers on leading slipcover brands.